Olivewood Memorial Park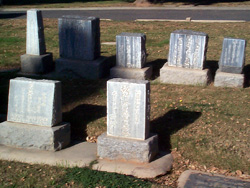 Olivewood Memorial Park is one of the two oldest cemeteries in Riverside and contains quite a few Asian and Asian American headstones.
It was founded in 1888 by local pioneer families and was originally on the outskirts of Riverside, surrounded by agricultural land. It is now on either side of Central Avenue, just east of the I-91 Freeway, and is operated by a non-profit foundation.
Asian and Asian American headstones can be found in nearly any section of the cemetery but are concentrated in two main areas, attesting to two different periods of Asian settlement in Riverside.
The far southeast area of the cemetery contains a group of over 100 Japanese and Chinese headstones mostly dating between the 1880s to the 1930s. (See the map of the cemetery below. Most of these headstones are in Section E, with a few in Sections C and D.)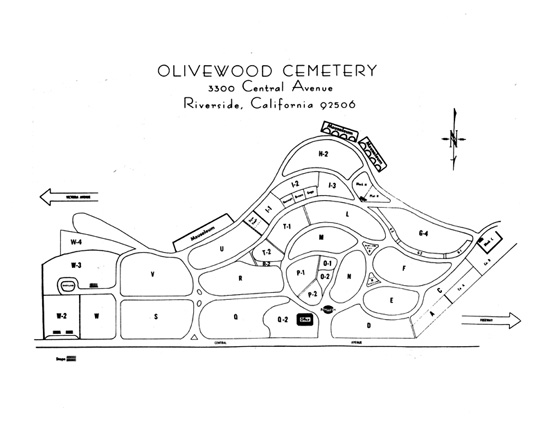 An Olivewood staff member told me that he had asked several of the Memorial Park's Trustees about that area and had been told that it was originally leased by the county and was maintained for families and individuals who could not afford a costly burial. In fact, that section of the cemetery appears to have open, unoccupied space but actually contains more burials than headstones since some of the dead could not afford a marker of any kind at all.
This area contains some of Riverside's earliest Chinese and Japanese settlers. There are 11 Chinese headstones and approximately 95 Japanese headstones. Quite a few are children, some only a few days or months old.
The Chinese were probably the first Asian arrivals in Riverside, and some of the headstones' incomplete Chinese names suggest that they were supplied by employers who either didn't know their employees' full names or who were unfamiliar with Chinese names.
If you have any information on the people or the families represented below, please contact us. Each stone represents a life history that will be lost without the help of community members who still remember.
Jim Ah was employed by the Bettners, a local family who owned a major citrus plantation.
An extant letter from Mrs. Robert Bettner (published in the Journal of the Riverside Historical Society, Issue #5, 2001) provides some detail about her Chinese house servants. But what was Jim Ah's family name? The marker only provides his given name, probably because this was how his employers addressed him.
Other headstones are entirely in Chinese, suggesting that the Chinese community ensured that some of their members were buried with correct names.
For instance, in the headstone featured below, who were T. Kawakami and Bunkichi Nogami? The two men died within days of one another, were both young, are buried near each other, and their headstones are very similar. Were the deaths related? If so, what happened? The two markers suggest stories that we would like to uncover.
| | |
| --- | --- |
| | |
Riverside Enterprise, August 24, 1917
p. 4, col. 5

CHINESE MERCHANT TO BE BURIED TODAY

Hop Lee is Called by Death; Funeral Services at Flinn's Parlors This Morning.

Hop Lee, one of Chinatown's prominent merchants, passed away yesterday, and will be buried today. With elaborate oriental rites, and Chinese ceremonies, the aged merchant will be laid to rest in Olivewood cemetery. The funeral services will be conducted at the Flinn parlors on Main Street at 9:30 this morning.

Hop Lee has conducted a store in Chinatown for a long time, and was a familiar figure to visitors there. Because of his business sagacity and age he was looked upon with a considerable degree of respect by other residents of the local oriental colony.
Quong Quock Chuey

Hoiping District

Har Been Village

Died 10th year of the Republic [1917], 7th month, 17th day.

Quan Sung Xiang

Hoiping Disrtict

Wong Uk Village

Died 8th year of the Republic [1917], Lunar 7th month, 4th day, between 6 and 8 a.m.

Wong Chung Gee

Hoiping District

Heengong

Lai Sam Hing

Yanping District

Tongmee Village
More recent headstones attest to the on-going presence of Asian Americans in Riverside.
The Inaba and Sanematsu are local Japanese American families. The Inabas own and run Inaba Auto Parts.
Local missionary Robert Poe is memorialized due to his work in China and his efforts to honor the presence of Chinese immigrants in Riverside.