George Wong and Wong Way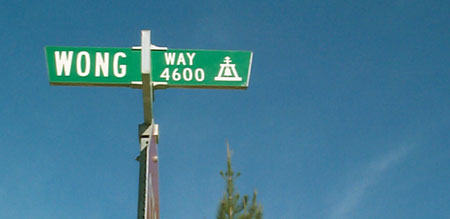 George Wong (born Wong Ho Leun, lived 1900-1974) was the last member of the Riverside Chinatown community. He was by all accounts something of a character, and many Riversiders have vivid memories of him. Long after the rest of the Chinese in the Tequesquite arroyo community had died or left, George stayed on. His cottage and junkyard at 4515 Chinatown Street (near the intersection of Tequesquite and Brockton) was a local landmark.
George Wong was born in Kwangtung Province in China in 1900. His father, Wong Ben Chow, had already settled in Riverside. His mother was Chinese American, born in San Francisco, but had emigrated to China at any early age and never returned to the U.S. Like many Chinese wives, she remained in China while her husband and sons emigrated. George arrived in Riverside in 1914 and stayed there for the rest of his long life. His father Wong Ben Chow, known to non-Chinese as "Little Joe," was one of many Chinese men who managed vegetable farms along the Santa Ana River at the turn of the last century. Until 1919, he farmed a strip of land in the river bottom west of Rubidoux Bridge and south of Highway 60.
By the 1920s, Chinatown was nearly empty, and George eventually acquired title to its 6 acres. In 1941, the last major Chinatown landowner, Wong Nim, died and in 1943, title to his land was bought and divided between the management of Evergreen Cemetery and George Wong. Evergreen Cemetery bought a large area for $4500, and it remains part of the cemetery today.
George Wong was known as the keeper of Chinatown's oral history and of many of its material remains as well. At the time of his death, his home was full of paper records, a Buddhist shrine, etc. Some of these items were bought at auction by the Riverside Municipal Museum but much of it has vanished, though quite a few Riversiders remember seeing these materials in his home. Wong has been described as a fast talker and a bit of a wheeler-and-dealer, and he was certainly a repository for the history of the Chinese in Riverside. He is buried in Evergreen Cemetery on a hill overlooking the site of Chinatown.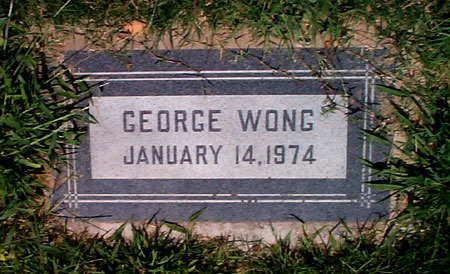 After George's death, part of his street was renamed " Wong Way," mostly in his honor and partly (according to local historian Harry Lawton) because several City Council members were amused by the alliteration of the street name. Whichever the case, this street sign is an indication of how a community's members leave their marks on the landscape.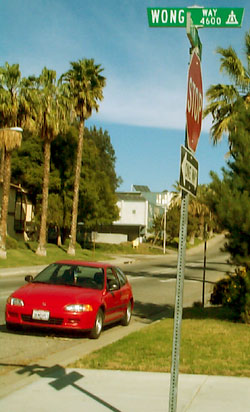 In 1985, Local Chinese American Julie Wong wrote an account of her childhood memories of George Wong. Ms. Wong was part of a successful, broad-based community effort to raise funds for the excavation of the Chinatown site. Click here for the complete document.